Bank and Financial Web Design
Our web development standards meet or exceed the special needs of banks and financial service companies. We are familiar with the needs of compliance teams, and work with an institution's internal Marketing Department, or as their outsourced MarCom team.
Medford Co-operative Bank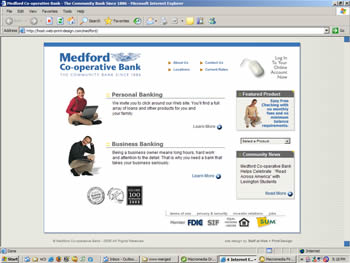 Medford Cooperative Bank approached us for a site design inspired by Citizens Bank and Bank of America. The design must have worked; they were purchased and merged into another bank group within 4 months of the sites launch in 2005.

view this site
| | |
| --- | --- |
| Banks and Financial Instition Website Design | $$ |
| | |
| --- | --- |
| Other Bank and Financial Website Designs | $ |

Portfolio by Market
Corporate Web Design
:
Small Business Website Design
:
Manufacturing Web Site Design
:
Banks & Financial Web Design
Corporate & Construction Website Design
:
Colleges & Education Web Site Design
:
Leisure & Home Improvement Web Design
Software & Telecom Website Design
:
Retail & Professions Web Site Design
:
WBT/CBT Design
:
Internet Marketing

Our Client List