Home Improvement Web Design
We are regularly contracted for Business-to-Business (B2B) website development in the construction and trade sectors. Major regional and national firms have enjoyed high rates of success in enhancing their lead development efforts and increasing their penetration of their market space.
For local and smaller regional firms, sites built for security, landscaping, plumbing and electric to interior design, furniture and do-it-yourself projects, a good quality, affordable web site can put you in front of millions of home owners.
Some of our websites have subsequently grown to national ecommerce retail sites. Generally, however, smaller brochure-style web sites can be of great benefit when project managers are locating and contacting subs for their projects.
Reeds Ferry Sheds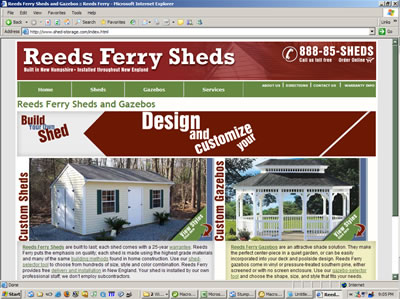 Improving homes by adding storage space outside has taken off in a big way. We helped this client quickly obtain market share through a multiple domain search engine optimization strategy. .

view this site
| | |
| --- | --- |
| Home Improvement Web Designs | $$ |
| | |
| --- | --- |
| Other Home Improvement Web Designs | $ |

Portfolio by Market
Corporate Web Design
:
Small Business Website Design
:
Manufacturing Web Site Design
:
Banks & Financial Web Design
Corporate & Construction Website Design
:
Colleges & Education Web Site Design
:
Leisure & Home Improvement Web Design
Software & Telecom Website Design
:
Retail & Professions Web Site Design
:
WBT/CBT Design
:
Internet Marketing

Our Client List