Software Company Web Design
We have worked with software companies as a web design company from designing web sites that showcase solutions to developing web based training sites that interact with students.
Tevron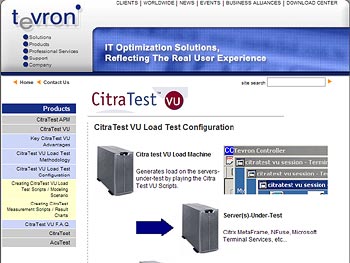 Tevron is a great example of how a basic Grant Communications site can turn into a custom, sophisticated project. Tevron came to Grant Communications years ago when all they needed was a basic web presence. Later, when Tevron decided to upgrade their web site they came back to Grant Communications, this time for a more sophisticated database solution. This just goes to show that both sides of Grant Communications can accommodate many levels of web site design so that we can be of service to you no matter how big you grow.

view this site
| | |
| --- | --- |
| Software & TeleCom Website Designs | $$ |

Solidus Technical Solutions

Cedar

CAP Systems

EDI Telecom

DTC Communications

MediaPhonics


(beta)


Acuity

Vivace Networks

Suplicity / NEC

(beta)
| | |
| --- | --- |
| Other Software & TeleCom Website Designs | $ |

Portfolio by Market
Corporate Web Design
:
Small Business Website Design
:
Manufacturing Web Site Design
:
Banks & Financial Web Design
Corporate & Construction Website Design
:
Colleges & Education Web Site Design
:
Leisure & Home Improvement Web Design
Software & Telecom Website Design
:
Retail & Professions Web Site Design
:
WBT/CBT Design
:
Internet Marketing

Inspect Our Client List