Medical and Bio-Tech Web Design
Medical and BioTech web sites are packed with important content. We can help you make sense of that content and present it in an understandable fashion; whether you are an employment provider to the medical industry, a physical therapist or a supplier of medical equipment.
Performing Arts Physical Therapy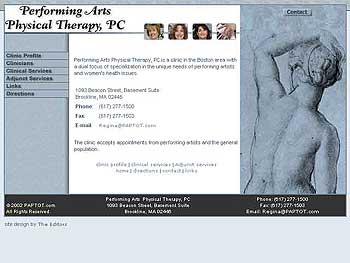 We supplied Performing Arts Physical Therapy with a comprehensive solution to their promotional needs. In addition to creating an affordable website, we also designed a pocket folder to help solidify and enforce their brand.
| | |
| --- | --- |
| Other Medical Web Designs | |

Portfolio by Market
Corporate Web Design
:
Small Business Website Design
:
Manufacturing Web Site Design
:
Banks & Financial Web Design
Corporate & Construction Website Design
:
Colleges & Education Web Site Design
:
Leisure & Home Improvement Web Design
Software & Telecom Website Design
:
Retail & Professions Web Site Design
:
WBT/CBT Design
:
Internet Marketing

Our Client List